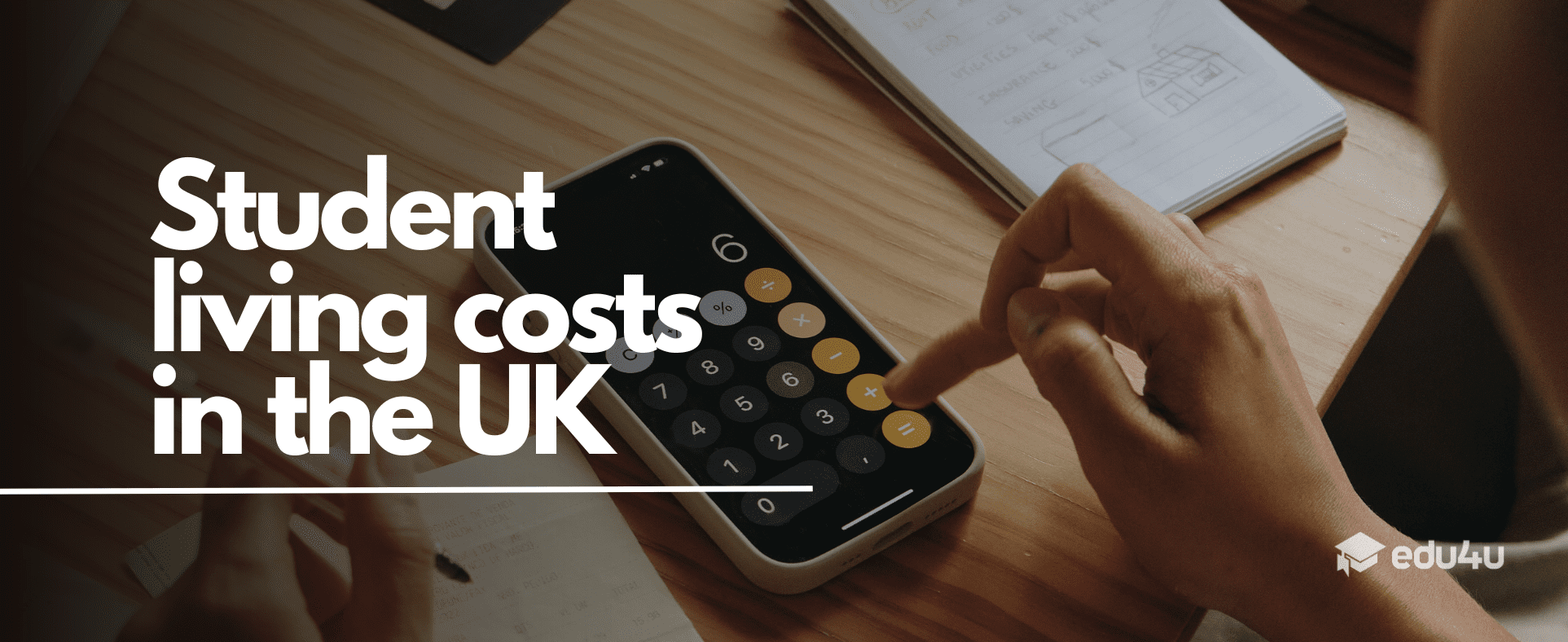 Living costs for a student in the UK
Accommodation for the study period is the most important decision of future students, right after the field of study. Do you have a problem with what property to choose? A dormitory, a room, or maybe an entire apartment?
If you want to find an apartment that you will feel comfortable in, you need to ask yourself :
What type of accommodation am I looking for?

How much am I able to pay for it?

Do I want to live with other students or do I prefer to live with people who are not studying?
Housing costs vary dramatically between regions and cities – London is the most expensive, and Wales or northern England is more pocket-friendly. For example, the cost of the dormitory at London Metropolitan University ranges from £140 to £320/week, at the University of South Wales it costs £85-135/week in Coventry – £128-150/week, and at the University of Sunderland, prices start from £70/week.
The price of the apartment will also depend on its type and standard.
First-year students often opt for dormitories as their preferred accommodation choice. Typically, universities provide an assurance of on-campus housing to all incoming students, whether they are enrolling in undergraduate or graduate programs. Rent prices for on-campus accommodations are often higher than those for renting a room in the city due to their favorable conditions and convenient proximity to the university.
The price of living in a dormitory ranges from £70-£180 per week.
This price includes all bills and Internet access. The majority of universities establish deadlines for applying for a dorm room, typically around June 30th. Students are required to submit their applications before this date to secure a spot in the dormitories. Even if the deadline has passed, it's still worth giving it a try and inquiring about the availability of any remaining vacant rooms. There might still be a chance to secure a room despite missing the initial deadline. Once you submit your application, the university will place you on a waiting list.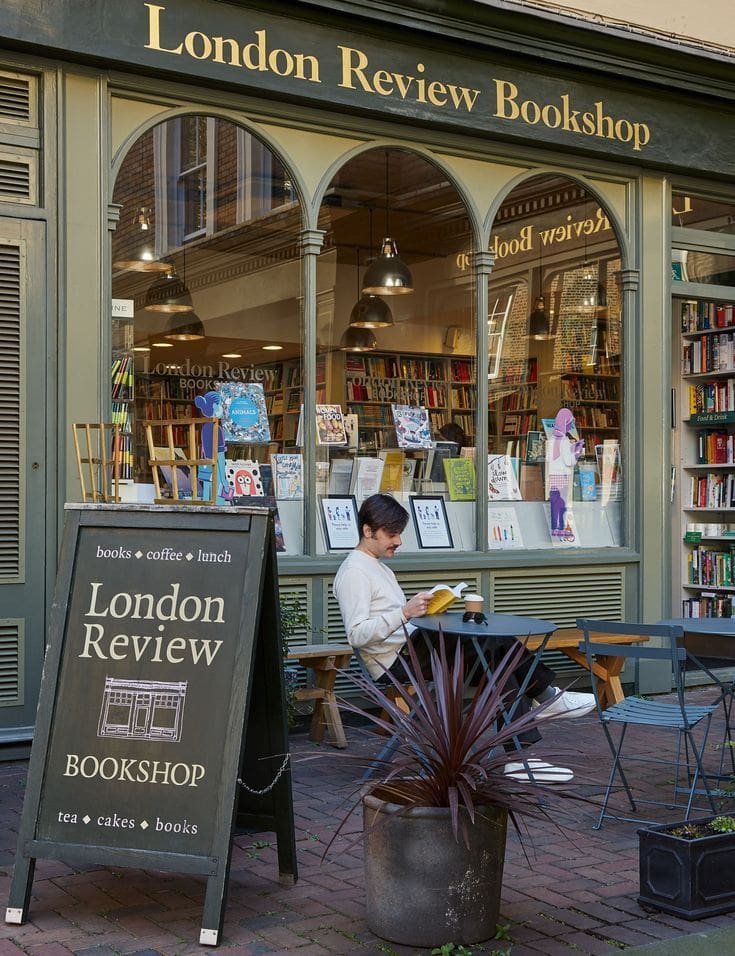 This means that if any rooms become available due to cancellations or changes, they will consider your application to assign the available accommodation. Keep in mind the earlier you apply, the better your chances are. The number of applications submitted plays a crucial role in the availability of dorm rooms.
Application for a place in a dormitory is simple and convenient. An electronic form is available on the university's website, which must be filled out and approved. Applications often begin as early as February-March. Once we have applied for dormitory space, we should also think about other alternative options in case we receive a rejection.
Standards in dormitories:
Economy: room with sink, shared bathroom, and kitchen in the corridor for 12 people per kitchen
Standard: room with sink, shared bathroom and kitchen in the corridor for 6 people per kitchen
En-suite: room with bathroom, shared kitchen in the corridor for 5-7 people per kitchen
The dormitory rooms are designed for single occupancy, which means each room accommodates only one person. They are equipped with a bed, desk, chairs, closet, cabinet, and high-speed internet. There are kitchens for students equipped with a refrigerator, freezers, kettles, toasters, microwaves, stoves, and ovens.
Pros of living in a dormitory: good standard of rooms, good location, good learning environment, integration with students, safety.
The downsides of living in a dorm: often small rooms, high prices, quiet at night.
In the UK, renting a room is a smasher accommodation choice among students. It is the cheapest option. When renting a room, bills are included in the rent or shared among roommates.
The fee for a room in an apartment or house is about £70-150 per week.
Price differences are mainly related to the region and size of the city in question.
Undoubtedly, London is the most expensive place for students to live. Room rates depend on the zone in which they live and range from £400-900 per month.
When choosing a room, pay attention to the fact that a cheap apartment far from the school may be more expensive because you will pay for transportation, so you need to calculate it well.
When renting a room, be prepared to pay a deposit and potentially purchase additional furnishings not provided in the room.
Renting an apartment or house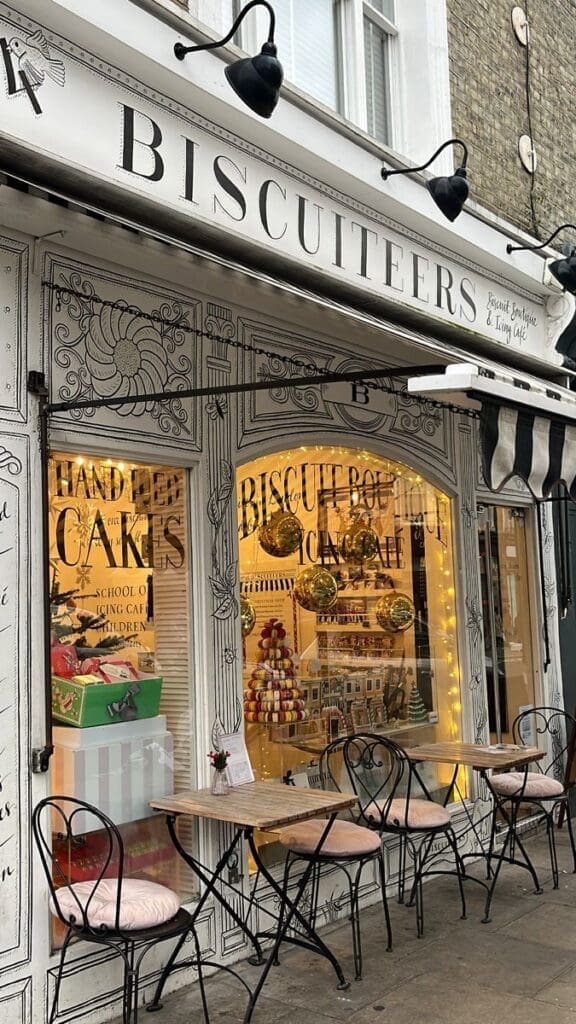 It is trendy for a group of students to rent a studio (or a studio apartment) or an entire apartment or house. The prices for entire apartments or houses are influenced by factors such as the size, location, and unique characteristics of the city.
Here are examples from specific cities:
London – £600-£1500/month.

Liverpool – £500-£700/month.

Aberystwyth – £600-£800/month.
Renting an apartment so-called.  1 bedroom, or two-bedroom (bedroom, living room) costs from £500 +.
It is also important to remember when renting an apartment or house through an agency or from a private individual, you should expect to pay a deposit. Typically, the required deposit for renting an apartment or house is equivalent to the cost of the first month's rent. Thus, if the rent is £550/month, we will pay £1,100 in total with rent. This is a one-time fee. 
The deposit serves as a form of security and financial protection for the landlord against potential damages to the property during the tenancy. If any damages occur, the landlord can use the deposit to cover the costs of repairs or replacements. 
Exactly, if there is no damage or destruction to the property during the rental period, and the terms of the contract have been fulfilled without any issues, the entire deposit will be returned. It serves as a refundable security measure to ensure that the property is well-maintained throughout the tenancy.
Remember to always ask when renting a room, apartment, or house if the utilities are included in the rental cost.
The deposit serves as a form of security and financial protection for the landlord against potential damages to the property during the tenancy. If any damages occur, the landlord can use the deposit to cover the costs of repairs or replacements. 
The average cost of food is about £200-300 per month.
In general, food prices are mostly higher than in Poland.
The cheapest way to stock up is at supermarkets. There are two leading grocery hypermarkets in the UK – Tesco and Asda. Morrisons, Sainsbury's, and Lidl are also popular.
Indicative prices of selected products:
loaf of bread: £0.60-1.40

milk 1 l: £1.00

250 g butter: £1.80

6 pieces of eggs : £0.80-2.00

1 kg of apples: £1.50-2.00

1 kg of tomatoes: £2.00-6.00

Yellow cheese: £1.70 (sliced, 160 g) – £2.50 (sliced, 400 g)

ham 100g: £0.60-2.50

pork sausages 1 kg: £3.00-9.00

musli flakes 600g: £2.00-3.00

beer 0.5 l: £2.00

vodka 1l: 17,00-28,00 £

pack of cigarettes: 6,00-9,00 £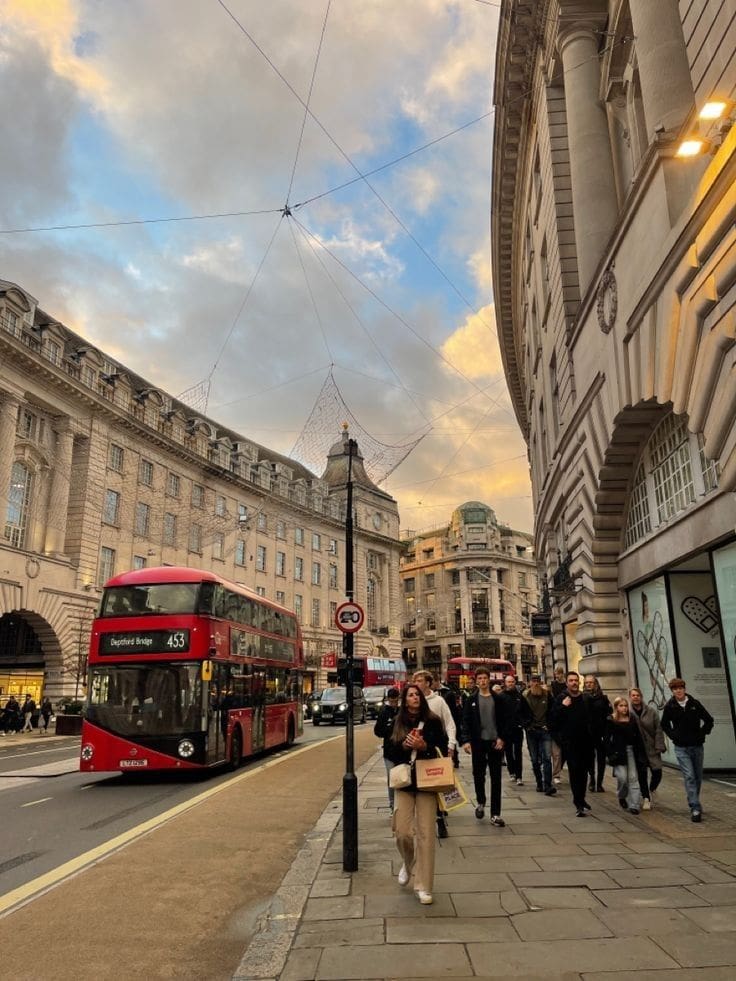 Transportation is an important budget item. If you decide to study in a large city, it is better to rely on public transportation.
Transportation prices vary, depending on how long distances you want to cover. As we have already written when choosing an apartment location, it is important to note that a cheap apartment far from the school may be more expensive because you will be paying for transportation.
The cost of using public transportation is not low. Indeed, the cost of tickets, whether they are monthly, quarterly, semiannual, or annual, varies due to apparent reasons. Different ticket durations offer varying levels of convenience and savings, hence resulting in unlike pricing structures. In London, for example, in order to get around on buses, subways, or streetcars, one must have an Oyster card. The popular Oyster allows rides with various discounts.
Typically, an all-day ticket for urban zones in the UK costs around. 4 lbs.
Approximate cost of monthly tickets in major cities:
London: £100.00 (one zone) £300 (9 zones)

Liverpool: £64.00-90.00

Edinburgh: approx. 50,00 £
Books and research materials
Studying at universities in the UK opens the doors to a rich academic landscape where the need to purchase books becomes a thing of the past. The university libraries, a cornerstone of the educational experience, are meticulously stocked with an extensive array of books and research materials. This robust collection caters to the diverse needs of students across various disciplines.
The modern facilities ensure that students have the flexibility to borrow physical copies of books or access digital versions seamlessly. This not only aligns with the digital age but also significantly alleviates the financial burden on students. The ethos of sharing knowledge is deeply ingrained in the UK's educational system, and the well-equipped libraries stand as a testament to this commitment.
Whether you're delving into centuries-old classics or exploring cutting-edge research papers, the university libraries are designed to cater to all academic pursuits. The convenience of borrowing or downloading materials ensures that students have the freedom to explore, learn, and excel in their chosen fields without the worry of accumulating a hefty collection of costly textbooks. In the realm of academia in the UK, access to knowledge is not just encouraged; it's a fundamental right that enriches the educational journey of every student.
Clothing
Clothing prices in discount stores are comparable to Polish ones. Several times a year, during sale periods, you can stock up on clothing at up to a 70 percent discount. Outlets are trendy here, with sales of brand-name clothing going on all year round, as well as chain stores selling cheap clothing, such as Primark. In addition, clothes can also be purchased at attractive prices in hypermarkets, or Asda or Tesco.
Hairdresser
Women's is an expense from £20.00, for men prices start around £10. You can also try to arrange a haircut at a hairdressing school or salon that trains staff. There, under the supervision of a professional, you will get a haircut from a novice barber for a small fee.
Discounts
Also worth mentioning is the student ID card. With an international ISIC card, students can purchase a discount ticket when traveling by air, rail, coach, and ferry. ISIC primarily tends to thousands of discounts at cultural centers, museums, as well as stores, and entertainment centers.
In many countries, ISIC holders receive discounts on goods not covered by the official agreement, as the ISIC card is treated on par with the local student card. Many academic institutions and student associations have adopted ISIC as their university's student ID card.
To sum up, studying in the UK costs several hundred pounds per month, and the final amount depends on the size, region, and character of the city (London about 400-800 pounds per month, in other cities about 300-600 pounds per month).

Maintenance Loan for Blended Learning Students
Blended learning, a mix of in-person and online education, has become increasingly popular, providing flexibility for students. If you're pursuing this educational model in the UK, understanding the financial aspects, including the Maintenance Loan, is crucial.
What is a Maintenance Loan?
A Maintenance Loan is a financial assistance provided by the government to help cover living expenses while studying. It is a loan that needs to be repaid, but the terms are favorable, making it an accessible option for many students.
Eligibility for Blended Learning Students
Blended learning students, like their full-time counterparts, may be eligible for a Maintenance Loan. However, eligibility criteria can vary, and it's essential to meet certain requirements:
Enrollment: You must be enrolled in an eligible course that meets the criteria for Maintenance Loan funding.
Attendance: Even though blended learning involves online components, there might be attendance requirements for in-person sessions. Ensure your course meets the attendance criteria.
Part-Time Status: Blended learning is often associated with part-time study. Verify the part-time status of your course as it may affect the amount you can borrow.
Application Process
The application process for a Maintenance Loan for blended learning students is similar to that of full-time students. Here's a general overview:
Course Confirmation: Ensure your course is eligible for Maintenance Loan funding and that you've received a confirmation letter from your educational institution.
Online Application: Apply online through the official student finance website. Provide accurate information, and make sure to select the correct course and study intensity.
Evidence Submission: You may need to submit evidence of your course details, such as a confirmation letter from your university or college.
Assessment: Your application will be assessed, and you'll receive details of the Maintenance Loan amount you're eligible to receive.
Repayment
Repaying a Maintenance Loan for blended learning students follows the same principles as for full-time students. Repayments commence after graduation and are based on your income. The repayment threshold is £25,000 per year, and you contribute 9% of your income above this threshold.
Conclusion
Blended learning offers flexibility, and the Maintenance Loan can help alleviate financial pressures, allowing you to focus on your studies. Ensure you stay informed about the specific requirements for blended learning students and make the most of the financial support available to you.
The best British cities for students
When considering studying in the UK, the choice of city is a significant factor in your overall experience. Each city has its unique charm, cultural offerings, and living costs. Here's a glimpse into some of the best British cities for students:
Pros:
Affordability

: Leicester is known for its relatively lower living costs compared to larger cities.

Cultural Diversity

: The city boasts a diverse community, creating an inclusive and welcoming atmosphere.

History and Culture

: With historical landmarks, museums, and vibrant festivals, Leicester offers a rich cultural experience.
Cons:
Size

: While the city is compact, some students may find it less bustling compared to larger metropolitan areas.
Pros:
Global Hub

: London is a global city, that provides unmatched cultural, professional, and social opportunities.

Educational Excellence

: Renowned universities and a diverse range of courses make it a top choice for academic pursuits.

Diverse Experiences

: From historical sites to trendy neighborhoods, London offers a diverse array of experiences.
Cons:
High Living Costs

: London is one of the most expensive cities globally, particularly in terms of accommodation.

Crowded and Fast-Paced

: The city's fast pace might be overwhelming for some
Pros:
Cultural Scene

: Known for its music, arts, and vibrant cultural scene, Manchester offers a dynamic student experience.

Affordability

: Compared to London, Manchester generally has lower living costs.

Friendly Atmosphere

: The friendly locals contribute to a welcoming environment for students.
Cons:
Weather

: Manchester is infamous for its rainy weather, which might not appeal to everyone.

Transportation

: While well-connected, some students may find the public transportation system challenging.
Pros:
Diverse Opportunities

: Birmingham's diverse economy provides ample opportunities for work experience.

Cultural Attractions

: The city has a range of museums, theaters, and cultural events for students to explore.

Transportation Hub

: With excellent transportation links, Birmingham allows for easy travel within the UK.
Cons:
Traffic

: Birmingham can face traffic congestion, impacting commuting times.
Pros:
Cost of Living:

Bradford is known for its affordability, making it an attractive option for budget-conscious students.

Cultural Heritage

: Rich in cultural heritage, Bradford offers unique experiences, including the Brontë Parsonage Museum.

Green Spaces

: The city has several parks and green spaces, providing a pleasant environment.
Cons:
Limited Nightlife

: Compared to larger cities, Bradford's nightlife might be considered more limited.
Pros:
Student-Friendly

: With a large student population, Leeds has a vibrant and student-friendly atmosphere.

Shopping and Nightlife

: From shopping districts to bustling nightlife, Leeds offers diverse entertainment options.

Employment Opportunities

: The city's growing economy provides opportunities for part-time work.
Cons:
Hilly Terrain

: Some areas of Leeds are hilly, which might be a consideration for daily commuting.

Varied Areas

: The city's different areas vary in terms of atmosphere and amenities, requiring careful consideration.
Conclusion
Choosing the right city involves a balance of personal preferences, budget considerations, and academic goals. Each of these cities has its unique offerings, ensuring there's a perfect match for every student's needs and preferences.
Q&A: Living Costs for a Student in the UK
How much do UK students get for the cost of living payment?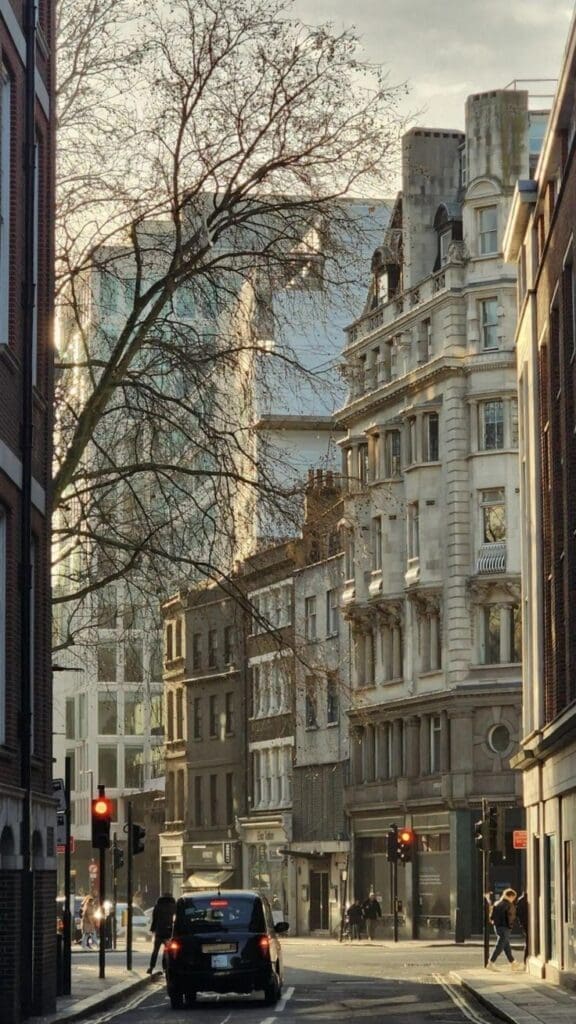 UK students can apply for a Maintenance Loan, with amounts varying based on household income. For specific figures, contact Student Finance England.
How much does student housing cost in the UK?
Student housing costs in the UK vary. Dorm prices range from £70-£180/week. Room rentals can cost £70-£150/week, with London being more expensive.
What are the living expenses in the UK outside London?
Living expenses vary by region. Outside London, costs are generally lower, but it depends on the city. Research specific cities for more accurate estimates.
What are the average student living costs per week in the UK?
On average, student living costs per week in the UK range from £200 to £400, covering accommodation, food, transport, and miscellaneous expenses.
Are there additional fees when living in student dormitories?
Yes, it's advisable to check for additional fees when opting for dormitories, such as administration or facilities fees. These can impact the overall cost.
Can international students apply for a Maintenance Loan in the UK?
Maintenance Loans are generally available to UK students. International students might explore other funding options, such as scholarships or part-time work.
Is it cheaper to rent a room or live in student dorms in the UK?
Renting a room is often more affordable than living in student dorms. However, it depends on the location, type of accommodation, and individual preferences.
How can students minimize living costs in the UK?
Students can minimize costs by budgeting wisely, exploring affordable housing options, cooking at home, and taking advantage of student discounts on transportation and amenities.
Are there specific deadlines for applying for student dormitories in the UK?
Yes, universities typically set deadlines for dormitory applications, often around June 30th. Applying early increases the chances of securing a spot.
Do living costs differ between cities in the UK?
Yes, living costs vary significantly between cities. London tends to be more expensive, while cities in Wales or northern England may offer more pocket-friendly options.
Ask our English students any question and we will give you free help as well as information as soon as we can 🙂
See the ranking and statistics of one of England's several hundred universities