Bradford University officially became a university in 1966, but its origins date back to the establishment of the Institute of Mechanics in West Yorkshire as early as 1832. It was the first institution of higher education in the United Kingdom to open a modern business school and also the first university outside of London to offer degrees on a part-time basis.
Furthermore, Bradford University was also the first university in the UK to establish a Department of Peace Studies in 1973. Currently, this institution hosts the largest center for higher education dedicated to the scientific research of conflict resolution and peacekeeping worldwide.
To this day, Bradford University strives to develop courses and educational programs that reflect the demands of the modern world. It has partner institutions in countries around the world, including the Philippines, India, Tanzania, and Hong Kong. Currently, students from approximately 150 countries worldwide study at the university in the UK.
Bradford University is not just a place in the UK where you can acquire qualifications; it is also a place where you can gain practical experience. The cornerstone of teaching at Bradford University is acquiring industry experience and increasing your employability. Here, you don't just learn theory, and participation in classes goes beyond taking notes in lecture halls. By studying in the UK, you will undergo practical training and acquire the skills you need to make the world a better place.
The Bradford University community is friendly and supportive. It will provide you with everything you need to realize your potential and passions in and outside the classroom. Students are highly engaged in decision-making at the university in the UK, ensuring that the institution addresses issues that are important to them.
Bradford University offers a wide range of undergraduate and postgraduate programs, including:
Business and Economics (e.g., economics and econometrics, business and management, accounting and finance)

Engineering and Technology

Biological Sciences

Physical Sciences (including chemistry)

Computer Science

Law
If you dream of studying in the UK, you will surely find something suitable for you at Bradford University. A detailed list of courses can be found on their website: https://www.bradfordcollege.ac.uk/study/find-a-course
Starting/Ending Statistics
Degree of Completion: Varies
Master's degree studies.: 17%
Data source: universitycompare.com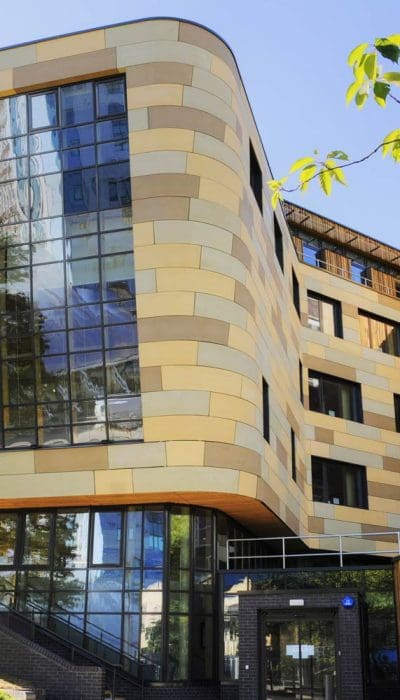 Bradford College has long been accepting students from all over the world. Detailed requirements for high school graduates can be found on the website: https://www.bradford.ac.uk/international/country/poland/
https://www.bradford.ac.uk/international/entry-requirements/ 
General admission requirements for undergraduate studies:
– Matura – overall score of 65-75% (depending on the program).
– English language – IELTS certificate with a minimum overall score of 6.0 and a minimum score of 5.0 in each section of the language exam.
General admission requirements for postgraduate studies:
– Completion of a bachelor's or engineering degree with a grade of 4 or higher (depending on the program).
– English language – IELTS certificate with a minimum overall score of 6.0 and a minimum score of 5.0 in each section of the language exam.
Detailed information regarding language requirements for each program can be found on the respective course pages.
Notable Highlights and Important Facts:
The first Chancellor of this institution, Harold Wilson, former Prime Minister of the United Kingdom, said about the university: "You can be sure that your university will grow in the future with the same dynamism as it has shown in the past – educating men and women who receive an education and training tailored to the needs of our changing society."
Former students of Bradford University include telecommunications entrepreneur Mo Ibrahim, poet John Hegley, and former UK government minister Ann Taylor.
In 2017, Bradford University received a Silver award as part of the Teaching Excellence Framework.
Bradford University provides accommodation for first-year students who have chosen the university as their first choice and have submitted their application within a specified deadline.
The accommodations are located in Green on the City campus, an eco-friendly student village with buildings situated around a pond. Student rooms are in high-quality houses, and thanks to appropriate solutions, electricity, and heating costs are relatively low.
Living in Green, students are at the very heart of university life. This allows them to take advantage of numerous events organized for those who are living away from home for the first time.
Additionally, students have the option to live in private student houses and apartments for rent near the university. Bradford University has a dedicated team to assist students in finding suitable accommodation.
Bradford is situated in the heart of one of the most stunning landscapes in the entire United Kingdom.
It's a lively, multicultural city with a population of over half a million people speaking approximately 70 different languages. The City campus is very close to the center of Bradford, where students can find the new Broadway shopping center, as well as restaurants, bars, and cafes.
Restaurants in the city serve cuisine from around the world, including Polish, Chinese, Italian, and Middle Eastern, and thanks to its famous curry, Bradford has earned the title of Curry Capital of Britain for six consecutive years!
Bradford is the world's first UNESCO City of Film, owing to its rich cinematic heritage, inspiring locations, and numerous film festivals.
In the city center, there are many pubs and clubs, museums (such as the National Science and Media Museum), galleries, cinemas, and restaurants, as well as tea rooms in the towns of Ilkley and Haworth.
Bradford is located close to Leeds, Manchester, and York, the beautiful Yorkshire coast, the Peak District, the Lake District, and the North Yorkshire Moors national parks. There is also an international airport nearby. Moreover, Bradford is well-connected to London, with a journey to the UK capital taking less than 3 hours.
MEDIA:
– https://www.facebook.com/onemilemore
– https://twitter.com/bradfordcollege
– https://www.youtube.com/channel/UCAD1cocGkxW08GUghYlCPJg
Bradford University
Richmond Rd, Bradford BD7 1DP
Tap the map once to turn on the colors.
Do you have any questions? Are you studying at this University and want to share the advantages
and disadvantages? Go on, just remember to be polite. 🙂
Data source: universitycompare.com