Teesside University is a modern university from the North East of England, which is appreciated for its high level of teaching and research as well as its commitment to the economic development of the region. The university focuses on innovation, as well as supporting creativity and entrepreneurship, which is why its educational profile focuses on business, engineering, IT, and modern media. Teesside University is recognized as one of the top 20 places in the world to learn animation – it is a global pioneer in video game education.
The most important information about the university
Teesside University is located in North Yorkshire, North East England, in the city of Middlesbrough. Its history dates back to 1930 when Constantine Technical College was established, a higher technical school specializing in education in metallurgy, chemistry, engineering, as well as art (School of Art). In 1969, the school was transformed into a polytechnic (it was the 13th polytechnic in the United Kingdom), and in 1992, it obtained university status The current name of the university Teesside University has been operating since 2009.
The university's motto is 'Inspiring success'. Currently, around 20,000 students are studying at the university. For cinephiles, an interesting fact is that Jamie Dornan, an actor known for films like 'Fifty Shades of Grey' and 'Anthropoid,' studied here.
Teesside University has won the National Teaching Fellowships (NTFS) seven times. This program recognizes excellence in teaching among higher education institutions in England, Wales, and Northern Ireland." It has also achieved prestigious recognition from the UK Department for Education for its high level of education, in the form of a silver Teaching Excellence Framework (TEF Silver) status.
In the Times Higher Education World University Rankings 2018, the university was among the top 1000 universities in the world.
The university is appreciated by international students – according to the International Student Barometer Autumn 2016, it is ranked number one among universities for providing career advice and high employment prospects
University graduates find employment in top companies worldwide, including in Microsoft, Disney, HSBC, BBC, Astone Martin, or Vodafone.
Studying at Teesside University
The university offers undergraduate and postgraduate studies in over 200 disciplines across the following categories:
Business, Accounting, Marketing & Enterprise
Computer Animation & Visual Effects
Computer Games
Computing & Web
Crime, Forensic & Investigative Sciences
Criminology & Sociology
Design
Education, Early Childhood & Youth
Engineering
English & Creative Writing
History
Home Design, Construction & the Built Environment
Law, Policing & Investigation
Life & Physical Sciences
Mathematics
Media & Communications
Nursing, Midwifery & Health Professions
Psychology
Social Work
Sport & Exercise
The Arts
A detailed search engine and list of courses can be found here.
Degree completion: Varies
Students from the UK: 94%
Data source: universitycompare.com
Teesside University is very open to international students – in the last 4 years, individuals from 107 countries around the world have studied there. On the university's website, you can find detailed admission requirements for students from specific countries.
For Polish candidates, the requirements are the following:
For undergraduate studies: high school diploma passed at a minimum level of 60%,
For postgraduate studies: bachelor's or engineering degree with a minimum grade of 4.
As for the required level of English language proficiency, it depends on the type of studies and the field. For example, for undergraduate studies in Computer Science, an IELTS certificate with a score of 5.5 is sufficient, while for business-related courses, a level of 6.0 is required, and for health-related courses, a score of 7.0.
The university accepts a total of 4 language certificates:
IELTS,
PTE (Academic),
Cambridge English scale,
Trinity Integrated Skills in English.
More information on English language requirements can be found here.
http://www.tees.ac.uk/sections/international/minimum_english_scores.cfm
Funding for studies – scholarships and loans
Teesside University has an extensive scholarship program for both UK and international students.
The university also offers other benefits – in 2018, every full-time undergraduate student (both domestic and international) received, among other things, an Apple iPad device and £100 credit for purchasing textbooks.
Students from European Union countries can also avail themselves of a loan on preferential terms to finance their studies. The loan amount is around £8,000 to £9,000. per year and helps cover the costs of studies.
Accommodation and Life in Middlesbroug
Middlesbrough is situated on the River Tees – it's from this river that the university gets its name, and the region is therefore called Tees Valley. The city itself has an industrial character and a population of around 140,000. residents. The university campus is located in the center of Middlesbrough, where students can find numerous shops, restaurants, clubs, pubs, as well as cinemas, art galleries (including the renowned contemporary art gallery MIMA, owned by Teesside University), and museums. There are also clubs and modern facilities here for engaging in various sports.
When it comes to accommodation, the university campus offers 1,100 spaces for students, who can also avail themselves of private housing options. The rent for a single student room is relatively low compared to many other universities, ranging from £65 to £115 per week. Fees for a place in a shared room are below £60. The university estimates the cost of living during studies to be around £1,015 per month.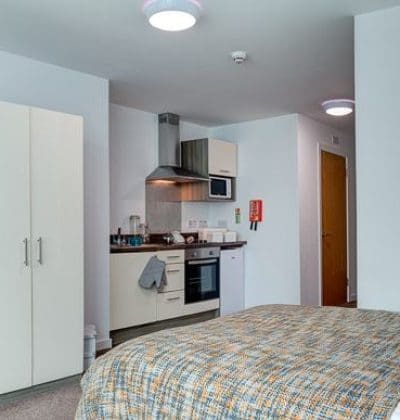 Teesside University
Campus Heart, Southfield Rd, Middlesbrough TS1 3BX, Wielka Brytania

Touch the map once to enable colors
Do you have any questions? You study at this University you want to share the advantages
and disadvantages? Feel free to write, just remember to maintain politeness and respect. 🙂
Data source: universitycompare.com