Are you thinking about studying in Leicester? Well, look no further than De Montfort University (DMU) in Leicester is a fantastic choice! DMU has a cosmic reputation and state-of-the-art facilities. It's a welcoming place for students of all backgrounds.
At DMU, you'll find something for everyone, whether you're into the arts, sciences, business, or technology. They offer a diverse selection of courses and programs to match your interests and career aspirations.
If you want to learn more about DMU, check out their official website for all the details and information. Don't miss this opportunity to pursue your higher education at a top institution like DMU!
Studying in Leicester at De Montfort University
Welcome to De Montfort University, or DMU for short – a renowned institution located in the vibrant city of Leicester, United Kingdom.
Studying in Leicester, at DMU, they take pride in being among the top universities in the UK. Their mission is to equip you with the knowledge and skills needed for your future career. We offer a wide array of fascinating courses designed to prepare you for the job market.
One exceptional aspect of DMU is our strong industry connections. There are lots of partnerships with influential companies, which means you have the opportunity to learn directly from industry experts. Moreover, you might even land a job with one of them after graduation!
DMU is all about inclusivity and diversity. They welcome students from all corners of the globe, fostering a rich tapestry of cultures and backgrounds. Join us, and you'll not only receive a world-class higher education in Leicester but also make lifelong friends from around the world.
Leicester, the city where DMU calls home, is a fantastic place to live and study. It offers a blend of tradition and modernity, ensuring there's always something exciting to do – from visiting art exhibitions to exploring potential job opportunities as you progress in your studies.
When you choose DMU, you're not just enrolling in a university; you're becoming a part of our big, friendly school family.
How to apply for studying in Leicester – DMU
Are you considering higher education in Leicester? Look no further than De Montfort University (DMU). With a wide range of courses for both undergraduate and postgraduate students, DMU is your gateway to a world of opportunities. Our focus on employability and strong industry connections set us apart.
Applying to DMU is a breeze, and we're here to guide you every step of the way. In this comprehensive guide, we'll break down the application process, ensuring that you're on the fast track to starting your studies in Leicester.
Key Takeaways:
DMU offers diverse courses for undergraduates and postgraduates.

We prioritize employability and industry ties.

This guide will walk you through the DMU application process.

Applying to DMU is straightforward.

Be sure to check out entry requirements and scholarship options.
Studying at DMU in Leicester promises numerous advantages. So, you'll receive a top-tier education delivered by experienced faculty members, contributing to our strong academic reputation and industry affiliations.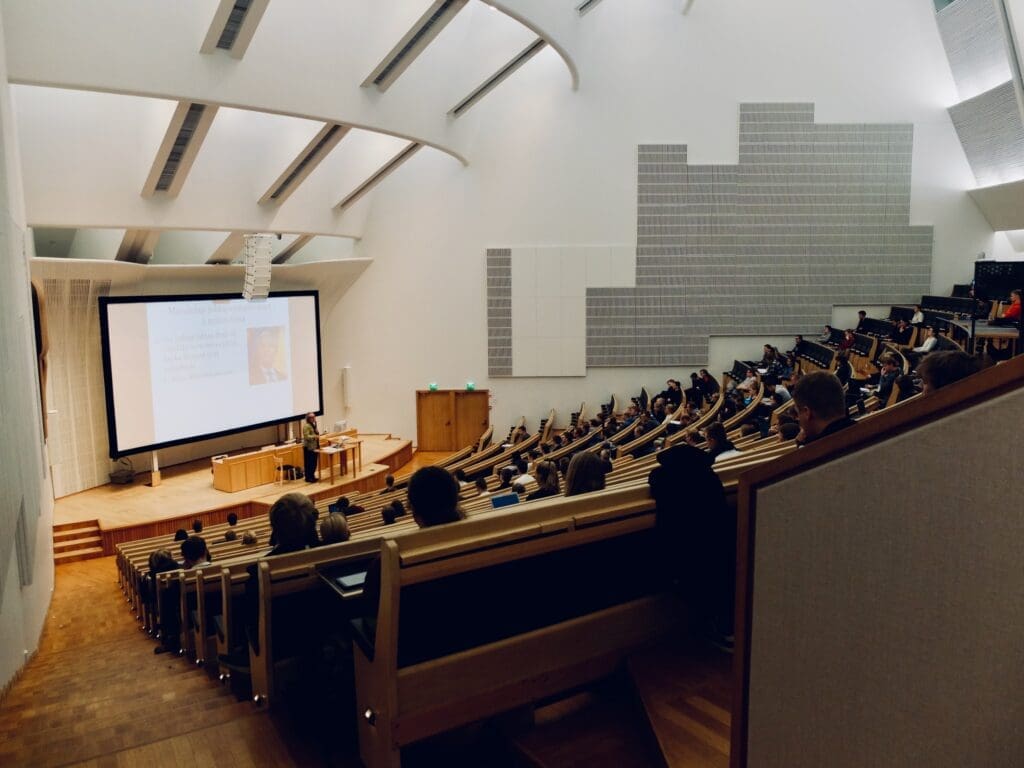 What's more, our dynamic student community provides ample chances for networking, lifelong friendships, and participation in extracurricular activities. With students hailing from over 130 countries, you'll gain insights from diverse perspectives and experience a multicultural environment.
DMU's dedication to excellence extends to student support services. From academic advisors to counseling services, we ensure your academic achievements and well-being. Also, career guidance and placement opportunities are also available to kickstart your professional journey.
Whether you're pursuing an undergraduate degree or a postgraduate program, DMU in Leicester equips you with the skills and knowledge you need for success in your chosen field. Apply today to begin your educational adventure in the heart of the UK.
Ready to embark on your journey? Here's a simple overview of the application process:
Applying to study in Leicester at DMU is a straightforward process, primarily conducted online. Take the first step toward your higher education goals and start your application now.
You'll need to gather the required supporting documents, such as academic transcripts, reference letters, and a personal statement. Additionally, our dedicated admissions team carefully reviews each application, considering academic achievements, relevant experience, and personal qualities. Besides, the application process is quick and easy, with only an English interview required for acceptance!
Studying in Leicester without a High School Diploma
If you want to study in Leicester but don't have a diploma, that's okay! There are plenty of different ways for you to get an education in the UK, right in the center of the country, without needing the usual qualifications.
Leicester boasts a variety of educational institutions, each offering a diverse array of opportunities for students to pursue their academic dreams. Whether you're interested in vocational training, undergraduate degrees, or postgraduate studies, there are pathways suited to individuals with various educational backgrounds and career ambitions.
Embarking on your academic journey in Leicester might feel overwhelming, but fear not! By following these steps, you'll be well-equipped to navigate the process. Best of luck as you chase your educational aspirations!
Q: How can I go to university in Leicester without a diploma?
A: If you don't have a diploma, there are other ways to go to university in Leicester. You can find special paths to get a good education in the UK, even if you didn't finish high school.
Q: What classes can I take at De Montfort University (DMU) in Leicester?
A: De Montfort University (DMU) has lots of classes for students in Leicester. You can study business, art, science, or tech stuff. DMU has many different subjects, so you can find one you like.
Q: Why is it good to study in Leicester?
A: Leicester is a great place to go to university. You can meet lots of friends, learn about different cultures, and connect with smart people doing important research. Going to university in Leicester can make your education special and help you find good jobs in the future.
Q: How do I start studying in Leicester?
A: If you want to start going to university in Leicester, you can do it step by step. First, find a university that offers the classes you want. Then, follow their rules for applying. Each university has its own way of applying, so make sure to do it right. Get all the papers you need and send them in on time. That's how you can start going to university in Leicester and reach your goals.  

 
How to Apply to a University in Leicester with Poor English?
Feeling overwhelmed by the prospect of learning a language that isn't your first is normal. However, it's important to remember that many students have successfully overcome this barrier, and you can do it too. In this article, we'll guide you through the process of applying to the University of Leicester, explore the study options available, and highlight the support services provided to students with poor English skills.
So if you are ready to start your academic journey in Leicester, read on to find out how you can study in Leicester with little English.
One essential improvement tool is to attend language courses and conversation clubs offered by Leicester universities. These sessions allow you to practice your English skills with other students facing similar challenges. Moreover, it is a fantastic opportunity to learn from native speakers and immerse yourself in an English-speaking environment.
Participating in the conversation club really helped me build my self-confidence and speaking fluency. The staff are friendly and open.– Sarah, former international student at DMU
University in Leicester also has specialist support staff

who provide additional support in areas such as writing and grammar. These services are tailored to your individual needs and help you communicate effectively in your written assignments and classes.
Additionally, if you are struggling with specific language skills, higher education institutions in Leicester can offer one-to-one support to improve your skills. You can arrange meetings with language teachers who will provide you with a personalized assessment and feedback on your progress.
Universities in Leicester understand that good communication skills are essential in today's job market and are committed to helping non-native English speakers overcome language obstacles and excel in their studies.
 Studying in Leicester – Student Finance for everyone with settlement
Leicester, a city brimming with dreams, is dedicated to making education accessible to all, especially those with settled or pre-settled status. Here, you can receive generous financial support of up to £15,000 per year to fuel your educational journey.
Student finance is your trusty companion on this exciting adventure, ready to transform your dreams into reality. It covers not just your college fees but also your books and even a cozy place to call home. Leicester firmly believes that everyone deserves a fair chance to learn and prosper, and they've made it happen.
Regardless of your background or where you're from, Leicester offers a range of student finance options that can be tailored to your specific needs. Loans (a tuition fee loan and a maintenance loan)  are like a helping hand, allowing you to borrow money now and repay it when you're earning. 
Leicester is committed to helping you soar to great heights, and they refuse to let finances stand in your way. They have a team of friendly experts ready to guide you through the student finance process. It's akin to having a squad of champions by your side, enthusiastically cheering you on toward success.
So, consider Leicester your launching pad, where dreams take flight, and they'll empower you to reach for the stars with student finance that's tailor-made just for you.
Explore Leicester's Student Finance Options and embark on a journey towards your dreams!
Studying in Leicester – Courses at De Montfort University (DMU) 
De Montfort University (DMU) offers a wide array of courses and programs spanning various disciplines. Whether your heart is set on the arts, sciences, business, or technology, DMU has a program perfectly tailored to match your interests and career goals. With offerings ranging from undergraduate degrees to postgraduate research opportunities, DMU ensures there's something for everyone. Plus, for those juggling work and study, DMU provides flexible learning choices, including part-time and distance learning programs.
At DMU in Leicester, you'll discover an extensive selection of courses and programs thoughtfully designed to cater to a diverse spectrum of academic passions and professional aspirations. Whether your passion lies in the arts and humanities, the realm of science and technology, the world of business and management, or beyond, DMU is your ultimate destination for top-notch education.
One of the standout features of DMU's course offerings is their unwavering relevance to industry demands. Their close partnerships with businesses and organizations enable us to create courses that seamlessly align with the real-world requirements of today's job market. This means that DMU graduates are exceptionally well-prepared to make a significant impact in their chosen professions from day one.
For students interested in arts and humanities, DMU's School of Fine Arts is a great place to explore and develop creative skills in fields like fine arts, drama, graphic design, and journalism. These programs not only nurture artistic talents but also provide practical skills that are highly valued in creative industries.
In the fields of science and technology, DMU provides top-notch laboratories and research facilities for programs like engineering and computer science. They keep their courses up-to-date with the latest technological advancements, ensuring students are well-equipped for the ever-changing tech world.
If you're interested in business and management, DMU has strong connections with industry players. It means students have opportunities to network and learn from real-world case studies. The Leicester Castle Business School offers a wide range of courses designed to prepare students for leadership roles in the corporate world.
DMU also offers support services for international students, including English language courses and orientation programs to help them adjust to life in the UK.
In summary, De Montfort University in Leicester presents a vast portfolio of courses and programs distinguished by their real-world applicability and unwavering commitment to providing students with a well-rounded education. Regardless of your academic interests or career aspirations, DMU undoubtedly offers a program that aligns seamlessly with your needs and ambitions. Choose DMU as your academic home and embark on a journey of educational excellence and professional success.
Leicester accommodation for students
De Montfort University in Leicester is right in the middle of Leicester. It's a lively place with lots of different people and cultures. The city itself has a long history, lots of art, and people from all over the world. At DMU, you can use all kinds of things to help you learn and grow, like modern classrooms, libraries, computers, and spaces to work with your friends or by yourself.
Welcome to Leicester, a city renowned for its rich history and vibrant student life. As you prepare to start a new chapter of your life, finding the right accommodation will likely be one of your top priorities. Fortunately, Leicester offers a wide range of affordable accommodation options that are both safe and comfortable.
You can choose to live in a shared apartment with other students or have your private room. There's something for everyone, and you can find places that are close to your school, buses, and fun places to hang out. No matter how much money you have to spend or what you like, there's a place for you.
When we pick places for you to stay, we make sure they're safe and cozy. We know students need a good place to study, relax, and grow.
Key Takeaways:
Leicester has many places to live for students.

There are options for different budgets and tastes.

Your place must be safe and comfy.

Find the perfect place for you.
Location is key
When you look for a place to stay in Leicester, you need to think about where it is. Is it close to your school? Can you get on a bus easily? Is it a safe neighborhood?
Facilities that fit you
Student places to stay come in all kinds of shapes and sizes. Some have shared stuff like kitchens and bathrooms, while others have their private things. Think about what you need, like laundry rooms, places to study, or places to hang out with friends.
Safety and comfort
Being safe and comfy is important in places where students stay. Look for places with 24/7 security, locked doors, and cameras to keep you safe. You also want a room that feels nice after a long day of studying.
So, when you're picking a place to live in Leicester, take your time and think about what's best for you. With the right place that's safe and comfy, you'll have a great time learning. Good luck!
Year Zero (Foundation Year) in Leicester – entry requirements
A foundation year is like a bridge that helps students move from high school to university in Leicester. It's for people who might not meet the college entry requirements right away or for those who want to get back into studying after a break.
In Leicester, they have a program called a foundation year. It's like a trial year where students can try out different subjects before picking what they want to study for real. It's an excellent option for those who may not meet the entry requirements for direct enrollment in a degree program or for individuals returning to education after a break, looking to refresh their academic skills.
Benefits of a foundation year
There are several advantages to undertaking a foundation year in Leicester:
Exploration of Interests

: It allows students to explore different subject areas, helping them gain a better understanding of their interests and strengths, particularly useful for those undecided about their degree program.

Enhanced Academic Skills

: The foundation year enhances critical skills such as critical thinking, research, and communication – skills highly valued by employers, making graduates of foundation year programs appealing candidates for future job opportunities.

Confidence and Motivation

: Completing a foundation year can boost students' confidence and motivation as they've already experienced success in higher education. This often leads to improved academic performance throughout their degree program.
Embarking on a foundation year in Leicester opens doors to academic growth and personal development, helping you chart a successful path in your higher education journey.
Tips for a successful foundation year application
Applying to a foundation year program in Leicester can be a competitive process, so it is essential to submit a strong application. Here are some tips to increase your chances of success:
Research your options: Take the time to explore different foundation year programs in Leicester and choose one that aligns with your interests and career goals. Consider factors such as course content, teaching methods, and available resources.

Prepare a compelling personal statement: Your statement is an opportunity to showcase your passion for the subject and demonstrate why you are a suitable candidate for the program. Be sure to highlight any relevant experiences, skills, or achievements that make you stand out.

Seek academic references: Ask teachers or mentors who know you well and can provide a strong reference to support your application. Ideally, these references should come from individuals who can speak to your academic abilities and potential.

Demonstrate your commitment: Show that you are genuinely interested in pursuing a foundation year by engaging in relevant extracurricular activities, attending webinars or open days, and staying up-to-date with current events or developments in your chosen field.
By following these tips and carefully preparing your application, you can increase your chances of being accepted into a foundation year program in Leicester and set yourself up for future success in higher education.
Start studying in Leicester today and lay the groundwork for a successful academic journey!
 What should I know about studying in Leicester?
One of the standout features of DMU is its unwavering commitment to your future employability. The university collaborates closely with industry partners to ensure that when you graduate, you're well-prepared to conquer the job market. DMU's Career Development team has your back, offering a treasure trove of services and resources aimed at boosting your employability skills. From career guidance and networking opportunities to valuable work placements, they've got you covered. Plus, keep an eye out for the university's regular career fairs and employer events, where you can connect with potential employers and explore exciting job prospects.
Top Universities in Leicester
Leicester boasts several highly regarded universities, each renowned for its academic achievements and commitment to excellence. At the forefront is the University of Leicester, consistently ranked among the top institutions in the UK. With a wide range of courses covering a variety of disciplines including science, art, business, and humanities, this university caters to a variety of interests. De Montfort University, another outstanding institution in Leicester, offers a cutting-edge approach to education, focusing on innovation, creativity, and industry connections. Both universities provide a nurturing and intellectually stimulating environment, providing students with a holistic education.
Studying in Leicester – University's ranking and reputation
Universities in Leicester have built a strong reputation both nationally and internationally. The University of Leicester consistently ranks among the top universities in the UK, excelling in areas such as research outcomes, student satisfaction, and the employability of graduates. He has also been recognized for world-class research in fields such as space science, archeology, and genetics. De Montfort University has earned its place among the best modern universities, famous for its professional courses and strong links with business. The excellent rankings and reputation of these universities reflect the high level of education they provide.
Student life in Leicester
Studying at Leicester offers more than just academic excellence; ensures a vibrant and enriching student life. The city is known for its diverse cultural scene, with a wide range of events, festivals, and attractions to explore. From the historic Leicester Cathedral to the modern Curve Theatre, students will always find something interesting. With a vibrant nightlife, eclectic dining options, and a thriving arts and music scene, Leicester offers students plenty of opportunities to relax and socialize.
Do not worry about boring paperwork, we will do everything for you! Contact us today to start your journey at De Montfort University in Leicester.