De Montfort University (DMU)
De Montfort University (DMU) is one of the three higher education institutions in Leicester, which was granted university status in 1992. It originated from the establishment of the Leicester School of Art in 1870, which later evolved into a polytechnic. Today, De Montfort University is one of the fastest-growing universities in the United Kingdom., which not only expanded its range of academic programs but also made impressive investments in modern infrastructure. DMU still retains its artistic character, making it a magnet for individuals aspiring to develop in the fields of art, design, and contemporary media.
De Montfort University offers education through four faculties: Arts, Design, and Humanities; Business and Law; Health and Life Sciences; and Technology. Students have a choice of around 400 courses offered in full-time and part-time (including distance learning) modes.
The most popular programs that the university is known for are:
art and design (including 3D design, visual communication, fashion),
media-related studies (including journalism and television production),
footwear technology (including footwear design and business management),
engineering,
information technology,
criminology (including specialization in areas like road accidents, digital forensics),
pharmacy,
nursing and midwifery.
A detailed DMU odds finder can be found here. https://dmu.ac.uk/study/courses/all-courses/all-courses.aspx
The university offers undergraduate courses, postgraduate courses, and foundation courses designed for individuals who didn't qualify for undergraduate studies but wish to prepare themselves for such programs. Approximately 80% of DMU students are enrolled in undergraduate degree programs.
Unemployed graduates: 15%
Degree completion: Varies
Students from other countries: 5%
Data source: universitycompare.com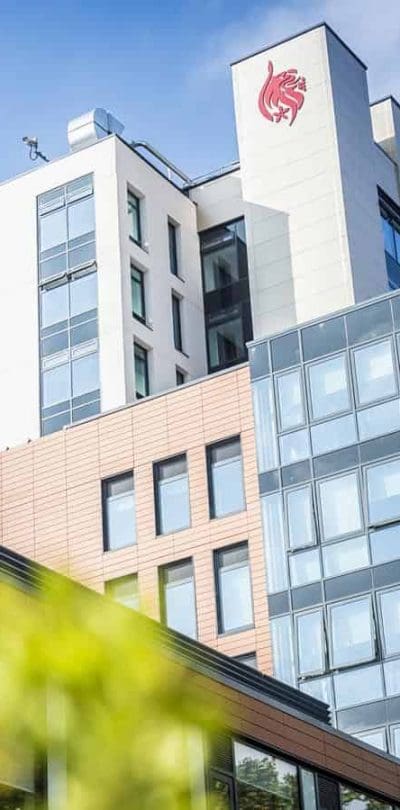 DMU is known for its strong international presence and is open to students from outside the United Kingdom. The university offers support, including language courses, and provides international students with an unified online application process. Approximately 15% of DMU's student body is estimated to consist of international students.
Admission requirements
The general admission requirements for undergraduate studies at De Montfort University are as follows:
High school diploma – 50% from at least 2 core subjects and at least 1 advanced topic.
English language proficiency – passed the high school diploma at 60% for advanced level or 75% for basic level / alternatively, an IELTS language certificate with a score ranging from 6 to 7.5 points. (depends on the program).
For master's degree programs, the admission requirements include completion of a bachelor's or engineering degree with a minimum grade of 4 and an IELTS language certificate with a minimum score of 6.5.
The minimum requirements are determined individually for each program based on UCAS points: http://www.dmu.ac.uk/study/courses/undergraduate-courses/undergraduate-courses.aspx (to view detailed requirements, you need to select a specific course).
Place in the rankings
In The Guardian's "University league tables 2018" ranking of universities, De Montfort University was ranked 94th. On the other hand, the "UK University Rankings 2019" prepared by "The Times & The Sunday Times" placed DMU in the 65th position out of 129 on the list of the best universities in the United Kingdom. In the Whatuni Student Choice Awards 2018 (WUSCA) for the University of the Year, DMU ranked 117th.
In 2017, the British Department for Education awarded DMU a Gold rating in the Teaching Excellence Framework (TEF) for consistently outstanding teaching and the highest quality in the British higher education sector.
DMU is also recognized as one of the 6 fastest-growing universities in the United Kingdom!
Accommodation and living in Leicester
De Montfort University offers students 12 halls of residence, with a total of over 3,700 rooms. Rental prices range from £97 to £172 per week.
Leicester is a city with a population of around 350,000. residents, where a significant Polish community lives and which is praised for its low cost of living. It is well-connected to London (about 70 minutes by train) as well as to other European cities (the nearby East Midlands Airport offers connections to Poland). Leicester is a typical student city with plenty of clubs, pubs, cultural and entertainment events, as well as places for sports activities.
Employment opportunities after DMU
Each faculty at the university has a career office that provides career advice and support in job applications. DMU also offers specialized career programs, such as #DMUglobal, which allows students to gain international work experience in companies even during their studies.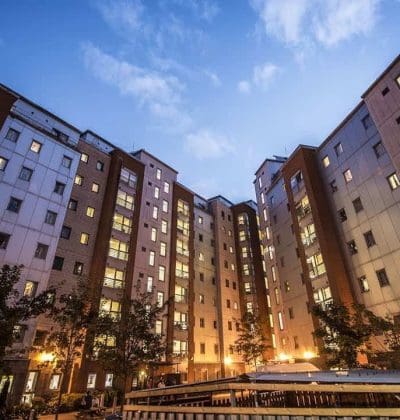 De Montfort University
Gateway House, Leicester LE1 9BH, United Kingdom
Touch the map once to enable colors
Do you have any questions? You study at this University you want to share the advantages
and disadvantages? Feel free to write, just remember to maintain politeness and respect. 🙂
Data source: universitycompare.com