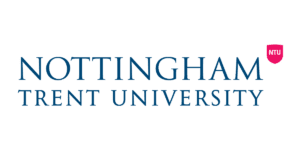 Nottingham Trent University
Nottingham Trent University (NTU) is 13th the largest university in the United Kingdom, which is considered one of the best institutions in the country. Evidence of this is the prestigious title of University of the Year 2017, which was awarded to it by Times Higher Education. The university is located in the heart of England in Nottingham – the legendary city of Robin Hood. It has around 28,000 students studying there.
The history of Nottingham Trent University dates back to 1843 when the Nottingham Government School of Design was established. It was only over 100 years later that Nottingham Regional College and Nottingham College of Design were established, which later merged to form the polytechnic in 1970. In 1992, it received university status.
Nottingham Trent University is a research university that focuses on scientific research activities. The university has specialized in 5 research areas, including in the areas of health and medical technology, security, and modern agriculture.
Due to its research-focused profile, NTU offers a program to support researchers and provides opportunities to obtain the following academic titles: MPhil, PhD, and Professional Doctorates.
Awards and rankings
One of the most spectacular achievements of the university was winning the prestigious title of University of the Year 2017 in the Times Higher Education competition, which is often referred to as the "Oscars of the higher education sector" in the United Kingdom.
In addition to that, it's worth mentioning other awards that the university has received recently:
• qualification Modern University of the Year 2018 – awarded by The Times and Sunday Times, which placed NTU in the top three universities established after 1992,
• the highest royal honor, the Queen's Anniversary Prize for Higher and Further Education, for world-class research.
Nottingham Trent University is among the top ten UK universities in terms of the number of students undertaking year-long work placements. According to the DLHE 2015/16 (Destinations of Leavers from Higher Education) survey, as many as 97% of the university's graduates find employment within 6 months of obtaining their degree.
Nottingham Trent University offers two types of courses: diploma courses (undergraduate and postgraduate) and college-level courses (individuals as young as 16 years old can enroll in these).
Within the undergraduate courses, there are over 250 courses available in 16 thematic areas including:
• accounting, finance, and economics
• architecture and civil engineering
• sztuka i projektowanie
•computer science, mathematics, and technology
• business, management, and marketing
• law and criminology
•journalism and media
• education and teaching
• psychology, sociology
• language studies.
The detailed course search and list can be found HERE.
In addition to that, the university offers preparatory courses for undergraduate studies (Foundation courses) and postgraduate studies (Pre-Masters courses), as well as special 6-week language courses for international students – Pre-sessional English for Academic Purposes (PEAP).
Unemployed graduates: 11%
Degree completion: Varies
Students from the UK: 94%
Data source: universitycompare.com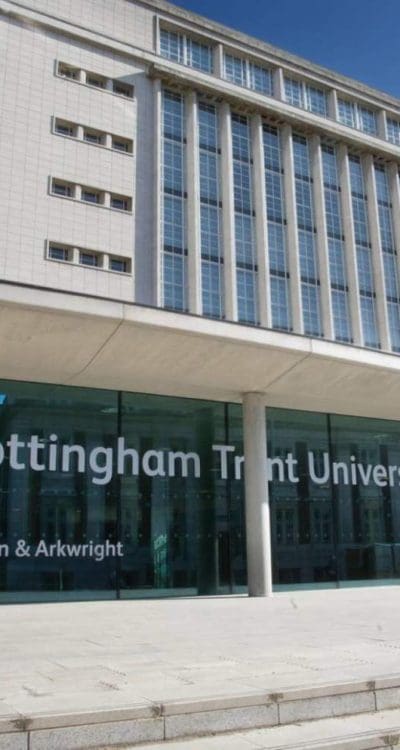 The entry requirements for undergraduate studies at NTU are determined through the UCAS points system, individually for each course. For students from Poland, there is a tariff that converts UCAS points into grades from the secondary school leaving certificate.
• The highest level of requirements is 136 UCAS points, which means that you need to have passed the secondary school leaving certificate with a minimum of 40%, and have a minimum of 70% in two subjects at the advanced level.
• The highest level of requirements is 80 UCAS points, which means that you need to have a general grade from the secondary school leaving certificate at a minimum of 40% and a minimum of 50% in two subjects at the advanced level.
The detailed table of requirements from the Polish matura for UCAS points can be found here. ttps://www.ntu.ac.uk/international/meet-us-in-your-country/visit-schedule-by-country/europe/poland
As for English language proficiency requirements, the university accepts IELTS certificates ranging from 6.0 to 7.0 (depending on the course and level of study), as well as alternative certificates such as: Pearson Test of English (Academic), Cambridge Proficiency (CPE) and Cambridge Advanced (CAE), TOEFL iBT.
More information regarding language requirements and accepted certificates can be found here.
ttps://www.ntu.ac.uk/international/your-application/entry-requirements/english-language-requirements
Funding for studies – scholarships and loans
People aspiring to study at Nottingham Trent University, including students from Poland, can avail themselves of various forms of financial support. When it comes to scholarships, there are several types available, ranging from £1000 per year to cover the full tuition for a 4-year course.
Similarly to other British universities, students from EU countries at Nottingham Trent University can also benefit from student loans provided by the UK government on preferential terms.
Accommodation and living in Nottingham
De Montfort University offers students 12 halls of residence, with a total of over 3,700 rooms. Rental prices range from £97 to £172 per week.
Leicester is a city with a population of around 350,000. residents, where a significant Polish community lives and which is praised for its low cost of living. It is well-connected to London (about 70 minutes by train) as well as to other European cities (the nearby East Midlands Airport offers connections to Poland). Leicester is a typical student city with plenty of clubs, pubs, cultural and entertainment events, as well as places for sports activities.
Employment opportunities after DMU
Each faculty at the university has a career office that provides career advice and support in job applications. DMU also offers specialized career programs, such as #DMUglobal, which allows students to gain international work experience in companies even during their studies.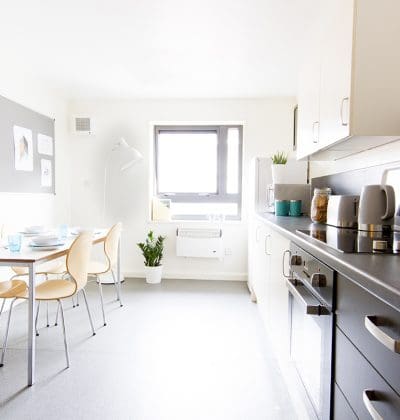 Nottingham Trent University
50 Shakespeare St, Nottingham NG1 4FQ, Wielka Brytania

Touch the map once to enable colors
Do you have any questions? You study at this University you want to share the advantages
and disadvantages? Feel free to write, just remember to maintain politeness and respect. 🙂
Data source: universitycompare.com