Leeds Trinity University is a small university with a huge reputation. It is one of the top 15 universities in the UK in terms of the quality of both theoretical and practical teaching. This should not surprise us, since Leeds Trinity University, as the first university in England, offered its students full professional industry internships, during which they gain invaluable professional experience. All this means that as many as 95% of graduates of this university find an attractive job within 6 months of completing their studies in England.
Thanks to the relatively small number of students (around 3,000), Leeds Trinity University is considered a very hospitable place to study. Students praise the sense of community provided by this university, the individual approach to their needs, and the necessary support.
The location of Leeds Trinity University also speaks in its favor. The peaceful, leafy campus is situated in the suburbs of Horsforth, just 10 kilometers from Leeds city center, where there is everything students need when they want to take a break from intensive study. In addition, in Leeds you will also find interesting and well-paid job opportunities during and after your studies in England.
Leeds Trinity University students can choose from a wide range of undergraduate and graduate programs. If you are interested in studying in England, you can enroll in one of the following courses available at this university:
Business and Economics (including business and management, economics and econometrics),

Humanities (including history, philosophy, art, design),

Social sciences (e.g. communication, sociology),

Psychology,

Education,

Law,

Computer Science.
A detailed list of courses can be found at http://www.leedstrinity.ac.uk/ in the "Courses" tab.
Graduate salary
£17 – 26K
Degree completion: Varies
Students from other countries: 2%
Data source: universitycompare.com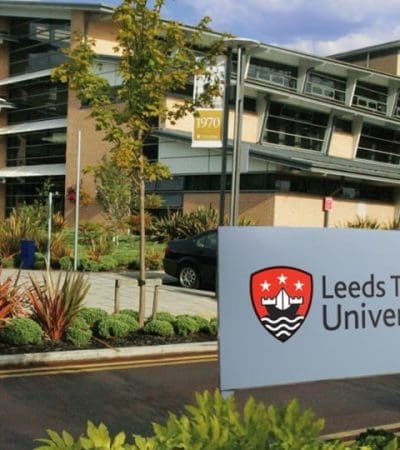 Leeds Trinity University, like most UK universities, is open to students from all over the world. For this reason, the university accepts a wide range of diplomas that qualify you for undergraduate and postgraduate studies. Detailed requirements can be found on the university's website (http://www.leedstrinity.ac.uk/international/my-country).
If you have any questions or doubts about the requirements for Polish students, you can contact the university by writing to: admissions@leedstrinity.ac.uk.
Leeds Trinity University requires people coming to study in the UK to have a good command of the English language. If you are applying for undergraduate or graduate studies in England, you should have an IELTS certificate of 6.0 points, with at least 5.5 points in each part of the exam.
Honors and important facts
In 2019, The Times and the Sunday Times Good University Guide 2019 named Leeds Trinity University as one of the top 15 universities in the UK for teaching quality and student experience.
First year undergraduate students in the UK are guaranteed residence on campus. Importantly, all housing is owned directly by the university and not by third parties. Students have at their disposal well-maintained rooms with shared or separate bathrooms.
Leeds is one of the best student cities in the UK. The university campus is just a 10-minute train ride from the city centre. What's more, Leeds Trinity students are eligible for discounted fares on public transport throughout West Yorkshire.
Leeds is known for its attractive cultural and artistic offer. There is an opinion that this is where you will find the best clubs in all of England. Bars, restaurants and bowling alleys await guests from all over the world, and students can count on additional discounts and promotions. In addition, Leeds hosts a Back to Basics club night, as well as the Leeds Festival.
In addition, Leeds offers a wide range of restaurants, cafes, and stalls with delicious food for all budgets. The city hosts food festivals throughout the year, including the Leeds Indie Festival.
Leeds Trinity University​
Brownberrie Ln, Horsforth, Leeds LS18 5HD

Touch the map once to enable colors
Do you have any questions? You are studying at this university and want to share the benefits
and disadvantages? Feel free to write, just remember to maintain politeness and respect. 🙂
Data source: universitycompare.com