Keele University is a university located in the heart of England, renowned for its high-quality education and scientific research. It welcomes students from all around the world, resulting in the presence of eager learners from over 120 countries. The university in England provides them with excellent support and all the necessary facilities, both academic and social. However, the most important aspect is the significanta wide range of choices for undergraduate and postgraduate degree programsthat are available at this university. Thanks to this, Keele University perfectly prepares its students for future work in top companies around the world.
Keele University can also boast the largest and most attractive campus in Europe, which is located in the county of North Staffordshire in the United Kingdom. Within its grounds, there are lakes, forests, a park, as well as large sports facilities. Furthermore, Keele University takes pride in being one of the most environmentally conscious universities in the UK, emphasizing sustainable development. This includes, among other things a program where students can cultivate their own food on campus.
The guiding motto of Keele University is "In the pursuit of truth in the company of friends." and this motto has accompanied this university in the UK since its establishment. However, it's not just an empty slogan. This idea is applied in reality as the university conducts classes in small groups and can also boast a friendly and supportive reputation towards students.
Students at Keele University can choose from a wide range of undergraduate, postgraduate, and doctoral programs.h. The university presented on Edu4u in the United Kingdom offers studies, among others: the following fields:
and Computer Science

Medical Sciences (medicine and dentistry)

Social Sciences (including Political Science, International Relations, Sociology, and Communication)

Engineering and Technology

Business and Economics (including economics and econometrics, business and management, accounting and finance).

Humanities (including History, Philosophy, Art, Design, Architecture, Literature)

Natural Sciences (including chemistry, mathematics, statistics, physics and astronomy, geology).

Law

Psychology

Education
A detailed list of undergraduate programs can be found on the website:
https://www.keele.ac.uk/study/internationalstudents/coursesearch/
Graduate Salary
£17 – 31K
Degree completion: Varies
Data source: universitycompare.com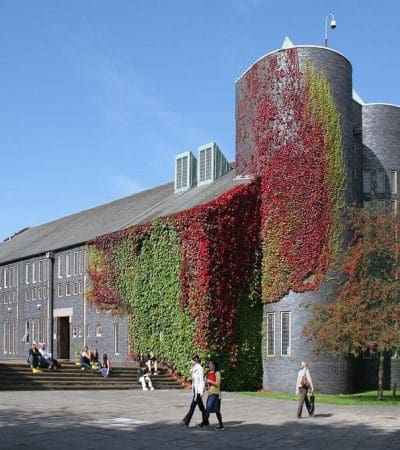 General admission requirements for undergraduate studies in England at Keele University may include:
High school diploma – a general score of minimum 55-75% (depending on the program), including scores from two subjects at an advanced level.

English language proficiency – an IELTS certificate with a minimum score of 6.0 – 7.0 (with no less than 5.5 – 7.0 in each component – depending on the program) or its equivalent.
You can check the details of recruitment for Poles at the university in England here:
https://www.keele.ac.uk/study/undergraduate/apply/entryrequirements/euentryrequirements/#poland
Detailed English language proficiency requirements for specific courses can be found here:
https://www.keele.ac.uk/study/undergraduate/apply/entryrequirements/internationalentryrequirements/englishlanguagerequirements/
Honors and important facts
Keele University ranked first in England for overall satisfaction with teaching according to the Guardian University League Table 2019. A similar recognition was achieved by this university in England in the research in the National Student Survey 2018.
The estate where Keele University is currently located was previously owned by the Sneyd family. However, in 1939, it was requisitioned by the military. Subsequently, in 1949, it was transferred to the newly established University College of North Staffordshire, which later became Keele University.
When it comes to accommodation on campus, Keele University prioritizes all new students of full-time studies, including international students. Even if there's a shortage of space on the campus itself, the university in the UK will provide them with off-campus rooms along with a bus pass, allowing them to have free transportation to classes.
Keele University is located in the northern part of Staffordshire, halfway between Manchester and Birmingham. In the vicinity of the university in England, all necessary student amenities can be found, including supermarkets, restaurants, cinemas, and shops.
Furthermore, at Keele University, student life thrives due to the wide selection of cafes, bars, restaurants, and pubs in Newcastle, as well as clubs in Hanley. On the other hand, the largest theme park in the UK, Alton Towers, is located approximately 45 minutes away from the university.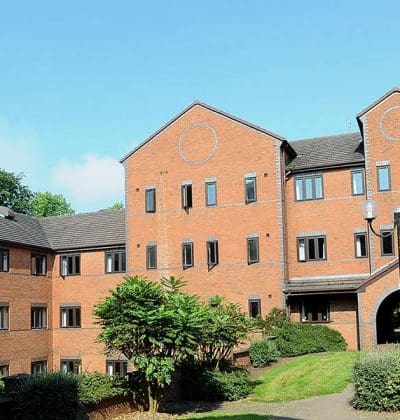 Keele University​
Keele, Newcastle ST5 5BG

Touch the map once to enable colors
Do you have any questions? You are studying at this university and want to share the benefits
and disadvantages? Feel free to write, just remember to maintain politeness and respect. 🙂
Data source: universitycompare.com