Greenwich University is located approximately 50 km from the very center of London. The university offers students going to study in England the opportunity to study at one of four main faculties:
Engineering and Science

Education and Health

Computer Science, Architecture, and Humanities

Business.
The University of Greenwich was established already in 1890. Previously, it educated students in the United Kingdom at the Woolwich Polytechnic and the Thames Polytechnic. When it obtained university status in 1992, it adopted a new name – University of Greenwich.
The main campus of the University of Greenwich is located in the former Royal Naval College, which is listed as a UNESCO World Heritage Site It consists of three Baroque buildings designed by the renowned architect Sir Christopher Wren in the late 17th century. The University of Greenwich campus is considered one of the greenest among all university campuses in the United Kingdom. Just off the main campus in Greenwich is the Cooper Building, which houses the Student Union, a modern bar, pool room, shop, and restaurants.
Besides, Greenwich University has two other campuses. One of them, the Avery Hill campus, is located on an 86-acre site in Eltham, south-east London, and consists of two buildings housing state-of-the-art computer rooms, laboratories, lecture halls, and libraries. If you feel like taking a break after studying hard, you can go to one of the pubs, clubs, or restaurants that are nearby. In this way, you will certainly enjoy your time spent studying in England.
Another campus, Medway, is located 50 kilometers away from the center of London on the coast of Kent county. The campus houses the Faculty of Engineering and Science as well as the Faculty of Education and Health, with classes held in Edwardian red-brick buildings covered in green ivy.
The University of Greenwich offers a wide range of undergraduate and postgraduate programs. Among them, you will find:
Business and Economics (including economics and econometrics, business and management, accounting and finance),

Engineering and Technology,

Humanities (including history, philosophy, art, architecture),

Biological Sciences (including veterinary science, biology, agriculture),

Social Sciences (including sociology, communication, political science, and international relations),

Physical Sciences (including chemistry, mathematics, statistics, geology),

Education,

Computer Science,

Law,

Psychology.
If you dream of studying in England, you will surely find something for yourself at the University of Greenwich. A detailed list of majors can be found at: https://www.gre.ac.uk/subjects
Graduate salary
£20 – 31K
Unemployed graduates: 12%
Degree completion: Varies
Students from other countries: 16%
Data source: universitycompare.com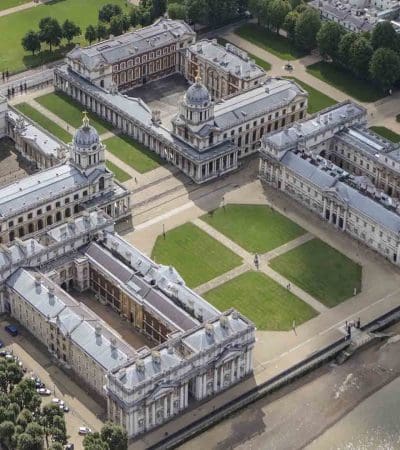 ADMISSION CONDITIONS
General admission requirements for undergraduate studies
High school diploma – overall score of at least 60% in core subjects (with the exception of law and architecture – overall score of at least 70%),

English language – passed the matriculation exam with a score of 80% at the advanced level or other certificates.
General admission requirements for master's studies
completion of bachelor's or engineering studies with a grade of 4 or higher (depending on the field)

English language – passed the matriculation exam with a score of 80% at the advanced level or other certificates.
The university also offers English language courses for candidates applying for studies in England who have passed the UKVI IELTS exam.
Detailed conditions of admission to the university can be found here: https://www.gre.ac.uk/international/greenwich-in-my-country?co=PL
Accommodation and Life in London
New students are guaranteed accommodation on campus, provided they meet specific criteria. Primarily, they must be full-time first-year students Additionally, they need to submit the appropriate application within a timeframe specified by the university in England. An additional requirement is the necessity to enroll in full-time studies for the entire academic session.
The prepared rooms for students at the Avery Hill and Medway campuses are only a few minutes walk away from educational and recreational facilities. Meanwhile, students living in Avery Hill who study at the Greenwich campus can avail themselves of a free bus service that connects both locations. The journey between them usually takes around 20 minutes.
Conversely, the rooms on the Greenwich campus are located about a 15-minute walk away from the educational and recreational buildings.
London is widely regarded by many as one of the best places for studying not only in England but also worldwide. It's the perfect city if you want to gain valuable professional experience or secure your first job right after graduation.
However, a student's life is not just about studying and working. London also offers a diverse nightlife, top theatre, sports and music venues, and world-class museums and galleries, most of which are free. It is the best place for shopping, attracting tourists from all over the world.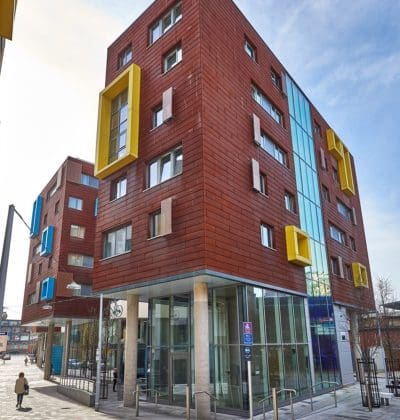 University of Greenwich
Old Royal Naval College, Park Row, Greenwich Peninsula, London SE10 9LS

Touch the map once to enable colors
Do you have any questions? You are studying at this university and want to share the benefits
and disadvantages? Feel free to write, just remember to maintain politeness and respect. 🙂
Data source: universitycompare.com