Anglia Ruskin University was founded by William Beaumont and originally operated as the Cambridge School of Art. Later, it was merged with Cambridgeshire College of Arts and Technology and Essex Institute of Higher Education, leading to its renaming as Anglia Polytechnic. The institution received university status in 1992 and then, in 2005, it changed its name once again to Anglia Ruskin University, the name it currently holds.
Anglia Ruskin University is one of the largest universities in Eastern England. The university has campuses in Cambridge, Chelmsford, and Peterborough, warmly welcoming students from all around the world. Furthermore, the university in the UK has partners around the world, including institutions in Berlin, Budapest, Trinidad, Singapore, and Kuala Lumpur.
ARU provides its students with an exceptional level of education and assists them in finding their way to a successful and fulfilling career. Importantly, the instructors at this university in the UK are experts in their fields not only from a theoretical perspective but also from a practical standpoint. As a result, Anglia Ruskin University students not only acquire essential knowledge but also invaluable skills that make it easier for them to find their dream jobs and well-paying positions worldwide.
On the ARU campus, one of the nine optometry schools in the entire UK is operational. Furthermore, the university in England has its own optometry clinic.
Art enthusiasts will delight in the public art gallery, Ruskin Gallery, which is owned by the university. It showcases historical artworks as well as contemporary art created by students and staff of this university in England.
Cambridge, Peterborough, Chelmsford
Students at Anglia Ruskin University can choose from a wide range of undergraduate and postgraduate programs. If you dream of obtaining a degree while studying in the UK, you can enroll at this university to study:
Business and Economics (including business and management, accounting and finance, economics and econometrics),

– Engineering and Technology,

Medicine and Dentistry,

Natural Sciences (including chemistry),

– Humanities (including history, philosophy, architecture, art),

Social Sciences (including Sociology, Political Science, International Relations, Communication),

Psychology,

Education,

Law,

Computer Science.
The detailed course search tool for courses available at Anglia Ruskin University can be found here: https://aru.ac.uk/study
Pensja Absolwenta
£17 – 30K
Unemployed graduates: 15%
Degree completion: Varies
Postgraduate Studies.: 14%
Undergraduate Studies.: 86%
Students from the UK: 86%
Data source: universitycompare.com
General admission requirements for undergraduate studies in England at Anglia Ruskin University
High school diploma – overall score of at least 60-65%, including at least two subjects at the advanced level,

English language proficiency – passed on the high school diploma with at least 70% at the advanced level (if the exam took place no earlier than two years ago), or an IELTS certificate at a level of 6.0 points, with no less than 5.5 points in the listening, writing, reading, and speaking sections.
General admission requirements for postgraduate studies in England at Anglia Ruskin University
completion of undergraduate or engineering studies with a grade of 4.0 or higher,

English language proficiency – IELTS certificate at a level of 6.5 points, with no less than 5.5 points in the listening, writing, reading, and speaking sections
To gain admission to certain programs, you may need to meet additional requirements, such as submitting a portfolio for design-related courses. You can find details here: https://aru.ac.uk/international/information-by-country/poland
If you do not meet the admission criteria for Anglia Ruskin University, you can start your studies in the UK by completing courses at Cambridge Ruskin International College.
For people with insufficient English language proficiency, the university offers a wide range of classes through the ARU Language Centre, which can help you meet the language requirements.
DISTINCTIONS
Anglia Ruskin University received a Silver Teaching Excellence Framework award for its high-quality teaching.
The majority of first-year students at Anglia Ruskin University, studying full-time in the UK, are guaranteed on-campus accommodation in Cambridge and Chelmsford. Students have access to houses and halls of residence with rooms featuring shared or private bathrooms.
Cambridge is a scientific and technological hub that houses major corporations and promising start-ups. On the other hand, Chelmsford is a vibrant and friendly riverside city located in the beautiful Essex countryside, just a 35-minute train ride away from London. It features numerous bars, restaurants, and shops Due to its many cultural events, it is a very popular destination chosen by individuals coming to study in England.
The third campus is located in Peterborough, a small and attractive town with excellent connections to the capital. The student community at Anglia Ruskin University in Peterborough is very close-knit, and students can spend time with friends in numerous local pubs, clubs, and restaurants.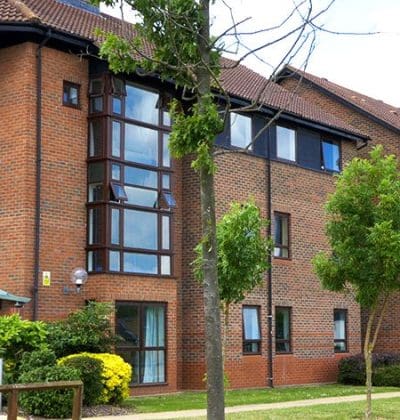 Anglia Ruskin University​
Cambridge Campus, East Rd, Cambridge CB1 1PT

Touch the map once to enable colors
Do you have any questions? You are studying at this university and want to share the benefits
and disadvantages? Feel free to write, just remember to maintain politeness and respect. 🙂
Data source: universitycompare.com