Have you chosen to pursue a bachelor's degree in England and want to make the most of this time to develop your professional skills? An excellent solution that allows you to achieve this is the sandwich year offered by universities in the UK. It's a way to gain experience and become competitive in the job market. Check how to make the most of the additional year for an internship and why it's worth it!
What is the sandwich year and placement?
A sandwich year, also known as placement, is a year-long internship in a company. Thanks to it, you gain professional practice confirmed by references. You also have the opportunity to earn money because, in most cases, it is paid. In today's world, practical skills and professional competencies are a priority in the job market, which is why universities in England provide their students with the opportunity to utilize an additional year for such an internship.
Remember that you don't have to make a decision about using the sandwich year at the time of application. Universities in England offer the opportunity to choose during the course of your studies, so even if you decided not to opt for this option during enrollment, you can reconsider it later when you receive an internship offer. It is also important to emphasize that applying for studies with the placement option does not guarantee that you will secure a placement for the internship. The university commits to assisting you in securing an internship, but it ultimately depends on whether the company is willing to accept you for it. Your commitment during the recruitment process is, therefore, crucial.
What support can you expect from the university?
Being aware of how important gaining professional experience is, universities in England offer their students comprehensive support in this regard. The forms of assistance provided include:
Provide a list of companies cooperating with the university and those that have already accepted students from a particular course for an internship.
Assistance in creating an effective CV and cover letter is crucial in the recruitment process. That's why universities in the UK provide access to reliable platforms where you can obtain practical tips on how to write them.
Organizing job fairs – both on the university campus and in off-campus locations. During these fairs, students familiarize themselves with the scope of activities of various companies, can decide on a possible internship, and establish valuable professional contacts.
Assistance in completing the required formalities – if you have any doubts, you can confidently approach the university office, where you will receive practical guidance.
How can you get a good internship?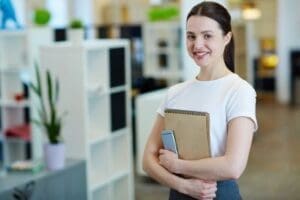 You receive support from the university, but you are required to meet several conditions to avail assistance in getting a professional internship. Firstly, you should achieve good results – the minimum average is 55%, which serves as confirmation to the university that you will easily resume your studies after a year's break. Remember that the higher your grades, the better your chances of getting an internship in your dream company. During the internship, you still need to pay tuition fees, but they are significantly lower. Your commitment and willingness to undergo an internship also matter – it is up to you whether you will be accepted for the internship.
Why is it worth choosing a sandwich year?
While pursuing undergraduate studies in the UK, it is worthwhile to utilize one year for a professional internship. Why? Thanks to it you gain:
Confirmed experience in the industry you want to develop in – it makes you an attractive candidate for future employment.
Contacts with companies that can offer you employment after completing your studies.
Satisfactory earnings – most companies pay you for the tasks you perform, so you have a chance to improve your financial situation.
Practical knowledge that will facilitate further education and help you make decisions about the type of work you want to pursue in the future.
Seize the opportunity and gain valuable experience!
Have you chosen to study in the UK and want to take advantage of a one-year internship? Are you afraid that you will get lost in the maze of documentation and formal requirements? Take advantage of our support – we are eager to help you with the application process to universities in the UK and provide guidance on how to get into your desired course and professional internship. Take a look at the website: edu-4u.uk and see what we can do for you!