This year's Brexit and the global coronavirus pandemic have disrupted the plans of individuals intending to studying in the UK. Are you wondering if it's still worth applying to a university in the British Isles? Of course! English universities are renowned for their high-quality education and modern approach, focused on practice and experience. Such a diploma will open doors to a career worldwide. If you want to find out what makes British higher education highly regarded and how learning is organized there, keep reading! We've discussed several key benefits that await you at universities in England. Check it out!
What is British higher education valued for?
For years, English universities have consistently been among the top-ranked universities in the world. You don't have to aim for the most challenging course at Oxford right away. Even when choosing a less well-known university, you can be sure that the level of education will be truly high, and the approach to learning will be modern and practical. As a graduate of a British university, you will easily find employment wherever you desire. An English diploma is welcomed in almost every corner of the world and assures the employer that they are dealing with a person capable of effectively solving problems. No wonder higher education institutions with such a system are leading the way in international rankings. What else will you gain by studying in the UK?
Studying in England: Emphasis on Practice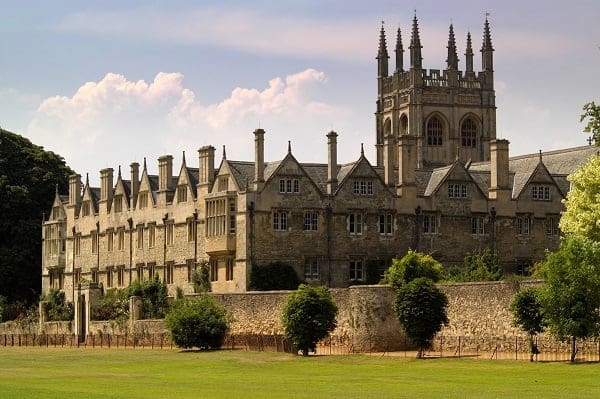 Forget about spending many fruitless hours in university benches At many universities, including Oxford, courses are designed in such a way that the number of classes does not exceed 15 to a maximum of 20 hours per week. Thanks to this, you have time to take up additional employment, allowing you to gain valuable work experience. The classes at universities are conducted in a highly practical manner. The minimum amount of theory serves as an introduction to numerous projects or group-based work. Moreover, the small size of the groups and direct contact with lecturers are also in favor – you will address all of them by their first names. Prepare yourself for the intensity of studies in the UK, but rest assured that the effort will pay off handsomely in the future.
Direct your educational path.
The strong emphasis on innovation allows universities in England to offer their prospective students developmental and future-oriented courses. Regardless of the academic path you choose to embark on, you can be certain that you will encounter current issues and the latest knowledge. The British education system is also very flexible. In addition to having a wide range of courses from various fields to choose from, you can also independently select projects you want to work on. This gives you the opportunity to develop in the area of your interests, which will have a real impact on your future career. You also have significant freedom in choosing subjects. In addition to the compulsory subjects, you can include classes in your schedule that will allow you to deepen your knowledge in the field you want to excel.
Versatile development is the key to a successful career!
Do you think studying is only for fresh graduates? It's not true! Especially if you have been living on the Islands for a longer time, starting your studies at a university in England can be an opportunity for better job prospects. Do not worry about applying to your chosen university – it is straightforward, especially if you have a settled status. After Brexit, you have until the end of June 2021 to apply for settled status. At that time, you are eligible for full student finance, and you can pursue studies to obtain a degree in your specialized field or even switch to a completely different career path. Studying at a British university is a good idea regardless of age and professional situation.
Find your direction with us!
Have you already decided that you want to start studying in the UK? Do you feel a bit lost and don't know which course to choose? No worries! Contact us, and we will guide you through the entire recruitment process. We will advise you on which university will be suitable for you, and together, we will find the answer to what you want to study. We are up-to-date with the changes taking place after Brexit, so you don't have to worry about missing anything. With us, you can apply for studies in the UK quickly and easily!