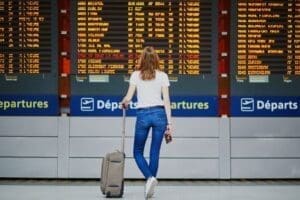 Preparing for Studying in the UK: Unlocking the Full Potential of Your Educational Journey Abroad. While the pre-trip preparations may not be the most thrilling phase, they pave the way for a fulfilling experience. Studying in the UK often involves a desire to immerse in a new culture, language, or chase future career aspirations. Discover essential steps to maximize your university journey in England!
Check what you need to do to make the most of your trip to a university in England!
Before you start a new, exciting chapter.
Take advantage of the time before your departure and take care of matters that will help you adapt to life abroad. Instead of worrying about the difficulty level of the chosen faculties, start thorough preparations! You will see that it's worth it!
Moving to a new country will go smoothly if you gather information about life in the UK, carefully prepare the necessary documents, and improve your language skills beforehand. Keep in mind that studying abroad is usually very demanding. At the same time, universities in England offer many benefits for their students. Find out how to prepare for this new stage in your life!
Take care of the necessary documents and formalities.
Don't forget to gather essential documents related to healthcare, such as the European Health Insurance Card (EHIC). Also, prepare a folder with the documents and certificates required by your university. Universities typically expect the presentation of such documents as:
matriculation examination results,
cover letter,
references,
portfolio (for architectural or art-related courses).
Remember: when starting the academic year, you gain entitlement to benefits such as student discounts. However, to enjoy these benefits, you must first obtain a student ID card. Therefore, make sure to arrange for the prompt delivery of the necessary documentation.
Plan your life in the UK.
Do you know where you will be staying upon arrival? All first-year students can apply for accommodation in the university dormitories. Many people also rent rooms or share apartments. Universities in England are tuition-based, and the tuition fees along with living expenses are often very high. As a result, students, besides using student discounts, also take on part-time jobs. If you plan to work part-time, try to contact potential employers before your departure.
Track your regular expenses and compare them with the standards prevailing in the UK. Starting university also involves additional expenses. You will need textbooks, stationery, clothing, and many other things. Getting familiar with a potential list of expenses will enable you to make an informed application for studies in the UK.
Systematically improve your English language skills.
Regardless of the chosen course, you will be communicating in English. A correctly filled-out application for studies in the UK is not enough on its own! Remember to expand your language skills, which will be useful for you upon arriving in England.
Additionally, higher education institutions in the UK may require the submission of language certificates such as IELTS or TOEFL. Therefore, dedicate at least a few minutes each day to language practice. Regular work on grammar and syntax will help you in writing essays and coursework with ease.
Also, remember to regularly use spoken language! Consistently engaging in casual conversations in a foreign language will improve your confidence, making it easier for you to actively participate in classes and university projects.
Are you about to embark on a study abroad trip? Get ready!
Make the most of the time before your trip abroad. In addition to filling out the application for studying in the UK, you need to prepare for the specific requirements of each university. The first months spent in a foreign country will be associated with new challenges. Therefore, right now:
familiarize yourself with the detailed offer of the university,
print out a list of necessary documents,
calculate probable expenses,
watch movies in English and read English-language books,
and if needed, enroll in a language course.
Invest in yourself! Proper preparation will make your stay in the UK a unique experience. The Edu4U team is ready to help! Contact us and take advantage of our experience.