Arden University is a university in the UK that allows for both full-time, online and blended study. This is due to the university's premise that everyone has the right to higher education, regardless of where they come from or where they live.
Arden University's origins date back to 1990, and it all started with a modest family venture in online learning. Today, the university operates internationally and, above all, is authorized to award degrees, both at the undergraduate and graduate levels. To date, Arden University has provided knowledge and degrees to more than 50,000 students from around the world.
DISTANCE LEARNING
Current times call for out-of-the-box solutions, including in the field of education, which is where the University of England fits in perfectly. That's why you can do distance learning at Arden University. In this case, the university does not organize fixed lectures, nor does it impose a rigid schedule. Instead, it provides a special online portal, iLearn, which can be used anytime, 7 days a week. Such a solution allows you to study from anywhere in the world and makes it easier to reconcile studying with work or other commitments.
Distance learning is all about tremendous flexibility. You can study at any time of the day or night. On top of that, you can redo individual courses at your own pace. If a particular batch of material is more difficult, you can spend more time on it. In turn, if you have a great understanding of another issue, you can move more quickly to the next issues.
Importantly, studying through distance learning is less expensive than standard college classes. On the other hand, the academic degree earned during such a mode of study is full-fledged.
BLENDED LEARNING MODE
Yet another way to study at a university in the UK is the so-called "blended mode". In this case, online learning is combined with traditional classroom instruction. In practice, the way it works is that for 2 days a week students take part in activities organized at the university. This gives a total of 8 hours of classroom instruction per week. This includes 12 hours per week of online learning and 13.5 hours for self-study. In addition, Arden University students have the opportunity to consult with lecturers by phone or email. In the case of the mixed mode, students also participate in 4 workshops on learning that take place in the first 6 weeks of the first year.
Professional opportunities
Arden University is a thriving university in the UK. It offers its students a number of courses through which they will gain practical knowledge in a particular field. Importantly, each of the courses has been developed by industry experts to ensure their usefulness in graduates' later careers. So what degree programs does Arden University offer? You will find, among other things:
Business and Management,

Finance and Accounting,

Engineering,

Computer Science,

Psychology and Sociology,

Marketing,

Law and Forensic Science,

Health and Welfare,

Graphics,

Data Analysis.
If you dream of studying in England, Arden University is sure to have something for you. A detailed list of directions can be found at: https://arden.ac.uk/our-courses
Graduate salary
£16 – 30K
Degree of completion: Various
Studenci z Wielkiej Brytanii: 93%
Data source: universitycompare.com
For most of Arden University's undergraduate majors, the admission requirements are as follows:
– English language – IELTS certificate of at least 6.0 points, with no less than 5.5 points from the individual parts (depending on the particular field of study, the requirements may be higher) or its equivalents,
– Send a cover letter (Personal Statement) of 350-550 words and references.
Importantly, for some majors at Arden University the requirements may be different. Besides, if you do not meet the requirements of a UK university, but have a minimum of two years of work experience, you can also apply to Arden University.
For more information, visit: https://arden.ac.uk/studying-with-us/why-arden/international-student-guide
AWARDS AND IMPORTANT FACTS
You can start studying at Arden University several times a year: in January, April, August and October.
Importantly, the online degrees that Arden University awards are internationally recognized and endorsed by leading professional organizations such as the Chartered Management Institute, the Chartered Institute of Marketing and the Association of Project Managers. The university is also one of five institutions in the UK that offer the Qualifying Law Degree course completely online.
Arden University provides students with a variety of dormitory accommodation options. As for the residential classes themselves, the university has locations in London, Birmingham and Manchester.
In the case of London, the university has as many as three state-of-the-art research centers, in Ealing, Tower Hill and Holborn. In contrast, Birmingham University is headquartered in the city center, while Manchester University's buildings are located in Linley House. Importantly, each of these locations is very well connected to the rest of the city or country. On top of that, there are plenty of stores, clubs, or pubs nearby, as well as other attractions that students love.
MEDIA:
https://www.facebook.com/ArdenUniversity/
https://www.linkedin.com/school/arden-university/
https://www.youtube.com/channel/UCQhkg_xU6hngS5dpWjmJO-w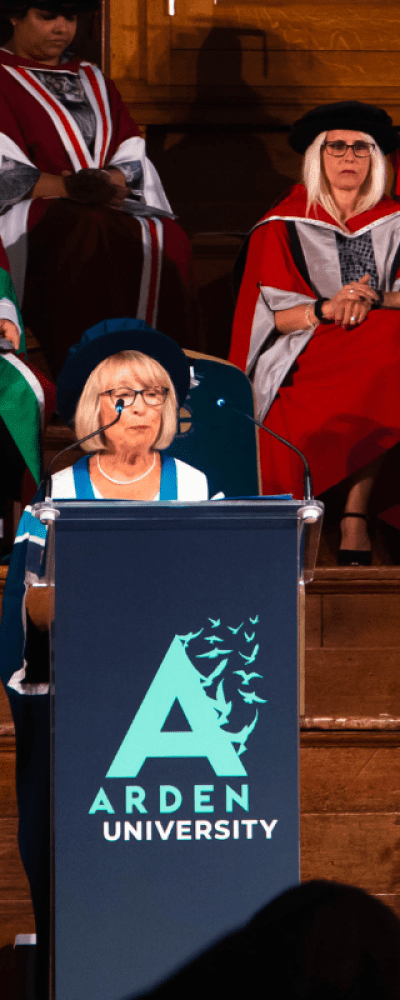 Location of the University
Arden University University Drive, Waterside Campus, Northampton NN1 5PH
Touch the map once to turn on the colors.
Do you have questions? Are you studying at this University and want to share the pros
and cons? Write boldly, just remember to maintain culture. 🙂
Data source: universitycompare.com